14th Young Investigators Symposium
NRS 14th Young Investigator Symposium "On bright ideas, big data and tiny living things"
December 9th, 2022​​​​​ @Hotel Casa 400, Eerste Ringdijkstraat 4 1097 BC Amsterdam, Amsterdam (near train station Amsterdam, Amstel).
Registration NRS members: FREE (non-members: €80,- including a NRS membership for 2023)

Are you a young investigator (PhD students, post-docs) or young physicians in training doing research within the field of lung diseases in the Netherlands? Sign up for the YIS 2022! This symposium gives the opportunity to start/broaden your network in the Netherlands, to practice presenting and to discuss data, and of course to be inspired by the seminars given by (inter)national Keynote speakers from the 'Lung Field'. Read more about the program and how to admit an abstract (optional) below.
PROGRAM
The YIS 2022 "On bright ideas, big data and tiny living things" will be from 09:00-17:30. In the morning we will have 3 inspiring lectures from our invited speakers. In the afternoon, participants will take part in either the workshop "Fail your way forward" or in the "Masterclass" chaired by our speakers.
OUR SPEARKERS
Prof. Debby Bogaert
Title of her talk "The human microbiome in treatment and prevention of respiratory infections."
Debby Bogaert is Chair of Paediatric Medicine at the Centre for Inflammation Research, University of Edinburgh, and works as a consultant in paediatric infectious diseases at the Royal Hospital for Sick Children, Edinburgh. She also has a research group at the UMC Utrecht, The Netherlands. Her group studies the human microbiome, with a particular focus on interaction between the microbiome, the host and the environment, and it's relation to respiratory health and disease. Her group's aim is to develop new strategies to diagnose, treat and prevent acute infections and long-term chronic health problems.
Dr. Janna Nawroth
Title of her talk "Functional Benchmarking of Airway Epithelial Cultures"
Dr. Nawroth is Principal Investigator and leads the Biodynamics Group at the Helmholtz Pioneer Campus (HPC) and Junior Fellow at the Technical University of Munich (TUM). Her research focuses on elucidating dynamic mechanical processes that underlie functions and dysfunctions in living tissues. Janna Nawroth received her PhD in Biology at the California Institute of Technology, where she studied the structure-function relationships of jellyfish propulsion and used these insights to engineer muscle powered pumps for biomedical research. For her postdoctoral training, she was awarded the Technology Development Fellowship at the Harvard University Wyss Institute. She developed Organ-Chips and advanced imaging technologies with Don Ingber and Kit Parker to study the mechanics and transport functions of the human heart and lung. Between 2016 and 2019, she was Associate Director of Research and Development at Emulate Inc. and leveraged her research to study tissue remodeling in alcohol-induced liver disease and severe asthma on-chip. Between 2019 and 2021, she took a position at the University of Southern California to expand her expertise in Organ-Chips, quantitative imaging, and mechanobiology to lung epithelial stem cells and infectious disease. In 2020, Dr. Nawroth received an ERC Starting grant for studying the role of mechanical forces and defective mucociliary clearance in chronic airway disease using Organ-Chip technology and innovative imaging tools. In 2021, Dr. Nawroth joined the Helmholtz Pioneer Campus.
Prof. Maria Yazdanbakhsh
Title of her talk "The immunological footprints generated by different environmental factors."
Maria Yazdanbakhsh is professor in cellular immunology of parasitic infections and is the head of the department of Parasitology at LUMC. Her research focuses on the interaction between parasites and their human host. She is the winner of the Spinoza prize 2021, member of Steering Committee of NWO-WOTRO Science for Development, scientific coordinator of the Leiden Controlled Human Infection Center (L-CHIC) and the chair of Internationalisation Committee of LUMC and LUMC Global. She holds visiting professorships at the University of Indonesia in Jakarta, University of Hasanudding in Makassar, Indonesia and Centre de Recherches Médicales de Lambaréné, Gabon. She has been elected fellow of the Royal Academy of Sciences (KNAW), fellow of Royal Holland Society of Sciences and Humanities (KHMW) and fellow of Academia Europaea. She has been awarded an ERC advanced grant in 2022.
WORKSHOP (Registration full)
Fail your way forward
Failure has the tendency to erode our ego and our self-esteem, because losing is bad. It seems that the perception of failure is set in stone for all of us. We tend to see it as a defeat, some kind of loss. The fear of failure can paralyze us or make us back off a project. But what if we can turn it into something positive? This way we can avoid the fear of failure and fail our way forward. In this workshop we examine the role of failure in your life. We critically observe how you can deal with it and change failure from being your enemy into an ally.
Richard van der Put
Richard is an energetic and ambitious trainer who believes in success through personal development. Together with his passion for communication and his experience in high level competitive Thaiboxing, he developed a system for mental training and discipline. Perseverance and retrieving lessons from you failures are cornerstones in his system. He believes in constant improvement and a strong mindset and puts this in the mission of Mind Elevators.
MASTERCLASS
ABSTRACT SUBMISSION **DEADLINE EXTENDED NOV 28**
The masterclasses are for junior researchers (e.g. PhD students) and will allow you to present your research to a small group of peers and receive feedback from experts. Our keynote speakers will be chairing the masterclass.
Please submit your abstract (maximum 300 words, 1 figure) before November 28th 2022. If you do not have any results from your study yet, just make an abstract covering the background, hypothesis and methods of your study. Preliminary data are also acceptable. All abstracts will be accepted, so you will not receive a confirmation. Upon arrival and registration on DEC 9th, you will receive an overview of participants of each masterclass.
The presentation will be projected on a TV screen during the Masterclass and each participant has 5 minutes to explain his/her study, followed by a short discussion (5-10 minutes). Your presentation should be prepared in PowerPoint in landscape format. The presentation should be limited to 5 slides maximum and should be structured as: introduction, results (max. 3 figures, 1 figure per slide) and discussion. If you do not have any results from your study yet, just present the background, hypothesis and methods of your study.
We hope to see you there!
The NRS Young Investigator board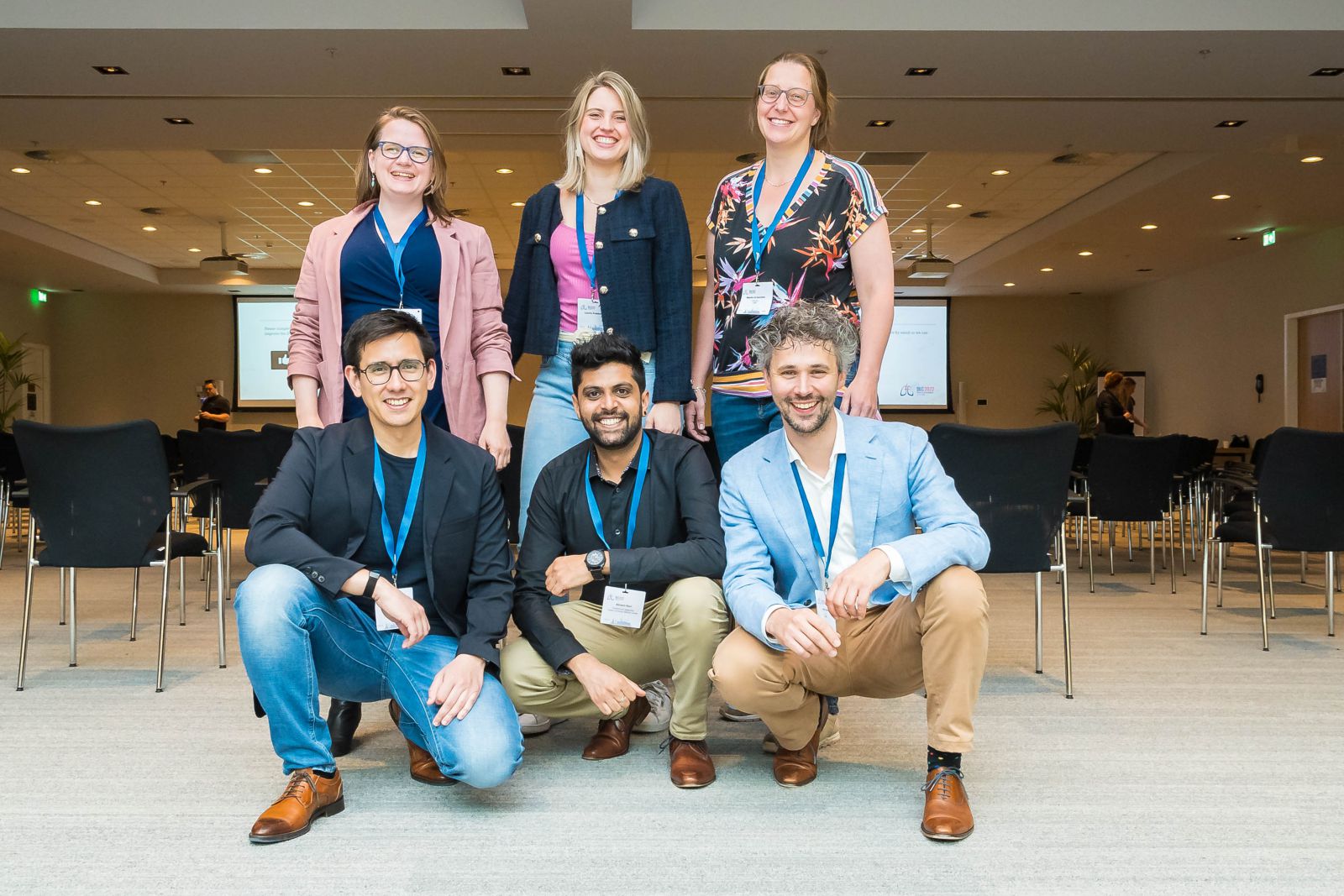 Dr. Susanne Vijverberg (Chair), Amsterdam UMC (AMC), Dr. Lisette Krabbendam, Erasmus MC, Dr. Maaike Scheenstra, Leiden University Medical Center (LUMC)
Dr. Gimano Amatngalim, University Medical center Utrecht (UMCU), Dr. Abilash Ravi, Leiden University Medical Center (LUMC), Dr. Jules Derks, Maastricht University Medical Center (MUMC)
Not in the picture: Dr. Marlies Ketelaar, University Medical Center Groningen (UMCG)
*The Workshop "Fail your way forward" is now full. You are welcome to participate in the Masterclass. (17-11-2022)