NRS 9th Young Investigator Symposium
November 17th 2017 "Biomarkers in pulmonary disease"
Hotel Casa 400, Eerste Ringdijkstraat 4
1097 BC Amsterdam, Amsterdam (near train station Amsterdam, Amstel).
We advise you to travel by train due to limited parking possibilities.
Sponsored by Stichting Astma Bestrijding (SAB)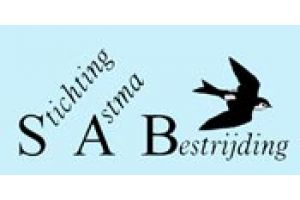 Abstract submission is open, deadline October 27th, 2017 (see below to submit)
The YIS is organized specifically for young investigators (PhD students, post-docs) and young physicians in training doing research within the field of lung diseases in the Netherlands. This symposium gives the opportunity to start/broaden your network in the Netherlands, to practice presenting and to discuss data, and of course to be inspired by the seminars given by (inter)national Keynote speakers from the 'Lung Field". Obviously, starting PIs that are interested in the symposium are more than welcome to join this day.

"Biomarkers in pulmonary disease"
Program:
09:00-09:45 Arrival and Registration
09:45-09:50 Welcome

09:50-10:20 Pro-Con discussion
Prof. Peter Sterk, Amsterdam, NL
Prof. Patrick Bossuyt, Amsterdam, NL
"Big data are useful in daily practice"

10:20-11:30 Session I
Prof. Harry Groen, Groningen, NL
"An overview of biomarkers in pulmonary oncology"

Prof. Louis Bont, Utrecht, NL
"Biomarkers of respiratory tract infection"

11:30-11:45 Coffee

11:45-12:55 Session II
Prof. Peter Sterk, Amsterdam NL
"Possibilities of daily use of biomarkers in asthma and COPD"

Prof. Anke-Hilse Maitland – van der Zee, Amsterdam, NL
"Personalized medicine in pulmonary disease: future or already daily practice?"

12:55-14:00 Lunch

14:00-14:30 Patient interview

14:30-16:45 Masterclasses by
Harry Groen (oncology)
Louis Bont (pediatrics)
Peter Sterk (COPD and asthma)
Anke-Hilse Maitland (precision medicine)

14:30-16:45 Workshop
"Leadership"

Refreshments will be served during these sessions

16:45-17:15 Awards and closing
Chiesi presentation award
Masterclass Award
SAB Award
Masterclasses
The masterclasses are for junior researchers (e.g. PhD students) and will allow you to present your research to a small group of peers and receive feedback from one of the expert. With submission you can choose your expert. A tip from the organizing committee: do not choose your own supervisor! This is the opportunity to receive feedback from an (other) expert, even if his/her expert field is not totally overlapping the subject of your own research, he/she will give valuable feedback from another point of view.
Please submit your abstract (maximum 300 words, 1 figure) before October 27th 2017. If you do not have any results from your study yet, just make an abstract covering the background, hypothesis and methods of your study. Preliminary data are also acceptable. All abstracts will be accepted, so you will not receive a confirmation. Upon arrival and registration on November 17th, you will receive an overview of participants of each masterclass.
The presentation will be projected on a TV screen during the Masterclass and each participant has 5 minutes to explain his/her study, followed by a short discussion (5-10 minutes). Your presentation should be prepared in PowerPoint in landscape format. The presentation should be limited to 5 slides maximum and should be structured as: introduction, results (max. 3 figures, 1 figure per slide) and discussion. If you do not have any results from your study yet, just present the background, hypothesis and methods of your study.
Please pay extra attention to the visibility and readability of your presentation in general and the figures in particular. Bear in mind that it will be projected on a TV screen, so try to avoid a lot of text. Too much text will reduce the readability thereby making it too difficult for your audience to understand and follow your presentation. Try to use schemes instead of text to present your introduction and/or discussion and omit summarizing all methodological details. Instead, focus on the figures so that your audience can read and understand them from where they are seated in the room.
After the presentation, a short 5-10 minute discussion will follow which is focused on two subjects:
1) way of presenting based on the PowerPoint layout and presentation skills, and
2) data and project including potential problems or pitfalls.
Additionally, you could ask for advice or simply get inspired with new stimulating ideas from the group.
In order to ensure an equal amount of time for all participants, you are kindly asked to keep this time restriction in mind when preparing your presentation. During the Masterclass, a moderator from the board of the Young Investigator Meeting will be present to control the time management.
Please email your PowerPoint presentation (max 5 slides) to nrs-secr@outlook.com, before November 10th.
At the end of the day, the key-note speakers leading the various Masterclasses will select the best presentation which will be awarded with the NRS YIS Masterclass presentation prize of € 500,-.
Workshop
The workshop "Leadership" is aimed at more experienced researchers (e.g. post-docs).
This workshop helps you to discover your strengths and offers possible directions for personal development: is leadership right for you, or how can you strengthen it? Leadership demands a lot of different roles with different skill-sets. As a leader, you support and facilitate innovation but you are also a people manager, a coordinator, a producer, or a governor. In this active workshop, we help you to define your strengths and personal development wishes based on various leadership models. We will share experiences and tips among participants. You will build your own personal development plan: in which areas do you think you could improve and how can you do it?
With the help of a professional training actor, we use Situational Leadership as a framework to practice various situations within the context of leadership. You can suggest a situation you would like to practice, such as: how do I delegate?; what if my employee lacks skills?; what is the difference between coaching and teaching, and how do I apply this? We will fine-tune the program based on the intake forms of the participants, so as to address your individual wishes.
If you choose the workshop, you do not have to submit an abstract, and you are not able to win the NRS YIS Masterclass presentation prize.
Awards
Besides the NRS YIS Masterclass presentation prize, also the NRS SAB Best Paper Award will be awarded. The SAB Best Paper Award is presented every year to a young investigator who performed his/her research in a research institute or hospital in the Netherlands, or to a Dutch investigator who performed his/her research abroad. Read more.
If you have any questions, please contact the Young Investigator Board by sending an email to nrs-secr@outlook.com .
We hope to see you all November 17th
The NRS Young Investigators Board,
Dr. Astrid Aardenburg – van Huisstede (chair), Franciscus Gasthuis Rotterdam
Dr. Bram van den Borst, Universiteit van Maastricht
Dr. Marieke Duiverman, UMC Groningen
Dr. Frances de Man, VUMC Amsterdam
Dr. Nienke Vrisekoop, UMC Utrecht