Alliantie Nederland Rookvrij - Vooraankondiging subsidieoproep tabaksontmoediging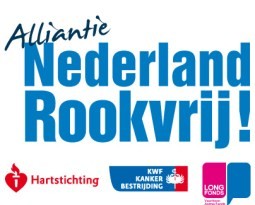 Vooraankondiging subsidieoproep tabaksontmoediging
In Nederland sterven jaarlijks meer dan 20.000 mensen aan de gevolgen van roken en meeroken. Wetenschappelijke kennis is onontbeerlijk voor goede oplossingen om roken te ontmoedigen. We slaan graag met de wetenschap de handen ineen om er voor te zorgen dat er geen mensen meer (over)lijden aan de gevolgen van roken en meeroken. Daarom bundelen KWF Kankerbestrijding, Hartstichting, Longfonds en andere gezondheidsfondsen samenwerkend in de Alliantie Nederland Rookvrij! (ANR) met ZonMw hun krachten om gezamenlijke financiering voor onderzoek naar tabaksontmoediging mogelijk te maken.
Subsidieoproep open vanaf 26 oktober
Wil jij uitzoeken hoe we nog beter gebruik kunnen maken van bestaande effectieve interventies? Of heb jij een goed plan om te onderzoeken of een interventie voorkomt dat jongeren starten met roken? En wil je op die manier bijdragen aan een Rookvrije Generatie? Dan kun je vanaf 26 oktober een onderzoeksvoorstel indienen bij ZonMw.
Onderzoeksagenda Tabaksontmoediging als basis voor de oproep
Deze oproep is gebaseerd op de Onderzoeksagenda Tabaksontmoediging die in samenwerking met onder meer wetenschappers, gezondheidsfondsen, ZonMw en de partners van ANR tot stand is gekomen. Binnen de onderzoeksagenda zijn de prioriteiten bepaald waar onderzoek zich in de aankomende jaren op zou moeten richten. ZonMw en de fondsen willen met de oproep ook stimuleren dat onderzoekers onderling en met andere relevante partijen gaan samenwerken.
Matchmakerbijeenkomst
Ben je geïnteresseerd in de subsidieoproep voor tabaksontmoediging? Kom dan op 31 oktober 2017 naar de matchmakerbijeenkomst bij ZonMw in Den Haag van 13.30 tot 16.30 uur. Tijdens deze bijeenkomst presenteert ANR de Onderzoeksagenda Tabaksontmoediging. Vervolgens lichten de financiers de doelstellingen en voorwaarden van de subsidieoproep toe en hebben de aanwezigen gelegenheid te netwerken en samenwerkingsverbanden te verkennen. Aanmelden voor de bijeenkomst kan via dit aanmeldformulier.
Meer informatie