Professor Dirkje Postma eervol onderscheiden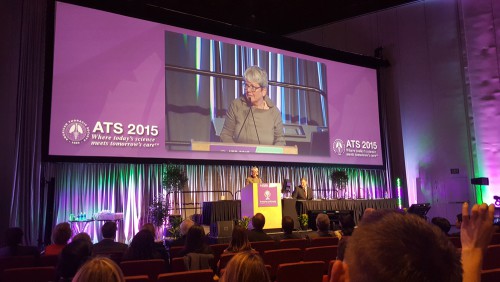 Als eerste niet-Amerikaanse heeft Dirkje Postma tijdens de recente ATS in Denver de prestigieuze Trudeau Medal in ontvangst mogen nemen.
Deze prijs wordt uitgereikt aan degene die een langdurige en substantiële bijdrage heeft geleverd aan preventie, diagnose en behandeling van longziekten door toonaangevend te zijn in onderzoek, educatie en klinische zorg. Deze prijs is ingesteld in 1926 om Edward Livingston Trudeau te eren, die de oprichter en eerste president was van de American Lung Association.
Dirkje heeft zowel bij astma als ook bij COPD zeer veel onderzoek verricht zoals moge blijken uit de meer dan 800 peer reviewed papers die door haar zijn gepubliceerd. Het onderzoek varieerde van het aantonen van hyperreactiviteit en eosinofilie als risico factor voor COPD tot het aantonen van het belang van inhalatie steroiden bij astma en COPD. Daarnaast heeft ze aangetoond dat bij astma patiënten de genen voor hyperreactiviteit en IgE gelegen zijn op het chromosoom 5q. Het feit dat ze al langer erkend wordt als een zeer groot wetenschapper moge blijken uit de visiting professorship die haar ten dele vielen in Harvard, McMaster and Sydney. In dit rijtje mag natuurlijk de Spinoza prijs die ze al kreeg uitgereikt in 2000 zeker niet worden vergeten.
De rode draad in haar onderzoek is altijd geweest haar wens tot samenwerking wat o.a. ook heeft geleid tot het oprichten van het GRIAC (Groningen Institute in Asthma and COPD). Van hieruit is en wordt veel onderzoek opgezet niet alleen nationaal maar ook internationaal. Ik denk dat velen het met mij eens zijn dat Dirkje deze eervolle prijs meer dan verdient en dat Nederland trots mag zijn een degelijke "topper" in haar midden te hebben.
Peter Wijkstra