Students at ERS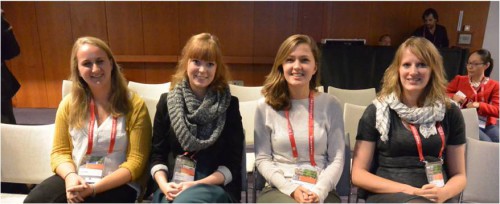 Sunday morning, September 27th, 2015. Pieter Hiemstra, president of the European Respiratory Society (ERS) Congress, opens a special student session developed for students interested in lung research. With his extensive overview of what the ERS stands for, how it is organized, and what the organization can do for you, the session has started strongly.
After getting acquainted with the ERS, Peter Sterk kicked off with his presentation "Why should you become involved in respiratory research in the Netherlands as a student?". In his talk, Peter introduced the students into the world of pulmonary research by expanding on questions like: "Why respiratory science?", "What topics are closest to my lungs?", "What is the joy of investigating serious diseases?". With this interactive presentation, students got primed for the world of scientific congresses and pulmonary research in general.

Additional to the presentations of Pieter and Peter, two members of the Junior Members Committee of the ERS provided practical information about visiting a congress. They also elaborated on possibilities to perform research next to a study or work as a clinician.
After this intense session the students were, surely well informed, released into the impressive world of pulmonary research. With this, the first task of the NRS Taskforce for support of Young researchers has been completed successfully. A new generation of young scientists has been introduced to pulmonary research and hopefully they will engage their enthusiasm into respiratory medicine.